Recommended Links:
DesignLoad
Tophosts
Guistuff
Scriptz
Stickysauce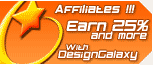 Free Downloads

We created the largest source of diverse professional graphic material. From logos to website templates, find all you need to fully satisfy yourself or your clients.
Please see our membership choices, which will bring you much more for your money.




Every user who registers with DesignGalaxy.net will receive a FREE 5 credit bonus. One credit is equal to $1.00 US Credits can be spent on any products sold on our site, and all you have to do is order a product using your credits earned.

As an added bonus, basic account members get 10% of what they spend back in credits, so if you spent $100 US you get 10 credits after purchase.




FLASH WEB TEMPLATES
$55.00
WEB TEMPLATES
$38.40
PHOTOSHOP WEB DESIGN
$29.00
CORPORATE IDENTITY
$60.00
LOGO DESIGNS
$25.00
POWERPOINT TEMPLATES
$30.00
forgot password?
Sign up
Send notification
| | |
| --- | --- |
| Flash Web Templates | 24 |
| Web Templates | 241 |
| Photoshop D. | 102 |
| Corporate Identity | 53 |
| Logo Designs | 202 |
| Powerpoint T. | 32 |
Icon description


| | |
| --- | --- |
| | - add to shopping cart |
| | - detailed product look |
| | - new product -20% HOT |
| | - product on sale |
| | - unique design |
| | - free download |

Partners